TAKE THE TOUR
ONLINE!
Discover a wonderful selection of exhibits taking you through Ludlow's rich history.
From its fossils, the ancient Bitterley hoard, artefacts from Ludlow's medieval church and castle, elegant Georgian Ludlow, and exhibits depicting Ludlow at War and Peace.
Opening Times: Friday, Saturday, Sunday and Bank Holidays 10am-4pm.
(Closed between Christmas Eve and New Years Day)
Entry Fee:
Adults £1.20
Children under 16 Free
Ludlow Museum at the Buttercross is on Facebook, Trip Advisor and Twitter. For regular updates follow us.
Ludlow Museum at the Buttercross is run with the support of the Friends of Ludlow Museum, follow the link for more information: The Friends of Ludlow Museum Website.
VISIT SOON!
Let Ludlow's historic heritage unfold before your eyes!
Our small unique Museum is located within the town's historic Buttercross building, built between 1743 and 1746. We have something for all ages to enjoy including interactive exhibits, a children's craft area and a handling area.
Enjoy the fabulous views from the Buttercross along Broad Street, Church Street and the surrounding countryside.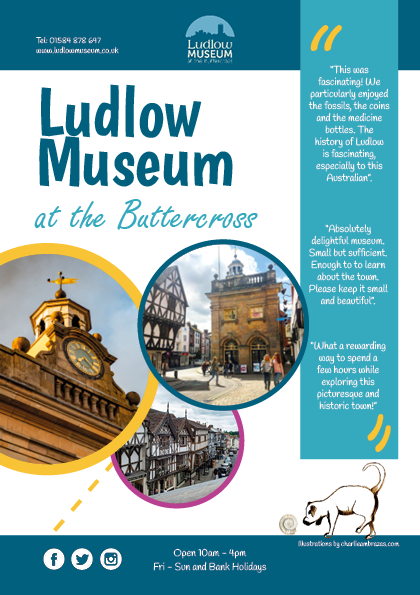 MUSEUM LEAFLET
Download our NEW Leaflet to learn more about what treasures you can find in Ludlow Museum at the Buttercross.
THE FRIENDS OF
LUDLOW MUSEUM
The Friends of Ludlow Museum support the Buttercross Museum (run by Ludlow Town Council) and Shropshire Museums Collections Centre (run by Shropshire Council). In particular the Friends assist in the purchase of objects and fund conservation of the collections.
Their objectives are to support and assist Ludlow Museum and to promote its use and enjoyment by the public as a Museum.
My family discovered this museum during a weekend stay at Ludlow and we were all very impressed with the varied and skilfully presented collection of artefacts spanning antiquity to the early 20th century, all of which are tastefully staged under sympathetic lighting with concise descriptions and tasteful graphics."
Mark W
Delightful little museum housed in a beautiful building with a stunning view. Thoughtful exhibits tell just a tiny slice of Ludlow's history. Adults and children alike can happily while away some time here. Don't miss it."
Diana
I had a bit of time to kill, so I ventured into this quaint little museum!
The entry fee was a bargain, and the member of staff I got talking to was very knowledgeable. Some interesting artefacts on display, so well worth popping in for a hour"
Freddie
Lots of really interesting things to see here, spent a good while wandering around, staff very helpful."
Anonymous, Hereford